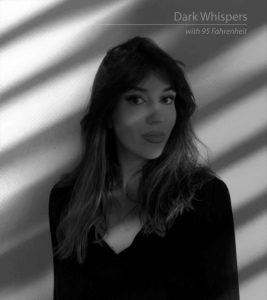 Show Times
Timezone
:
CET
[UTC+1]
About the Show
Introducing "Dark Whispers" – a Hypnotic and Atmospheric Techno radio show that delves deep into the
immersive world of electronic soundscapes.
Hosted by 95 Fahrenheit, "Dark Whispers" invites you to a sonic journey like no other. Let yourself be guided on a
voyage into the heart of hypnotic rhythms and ambient textures, where every track is a carefully chosen step
into the abyss of mesmerizing beats and atmospheric grooves.
Tune in and lose yourself in an alternate dimension of electronic music.
New episode every last Saturday of the month
Tracklist Dark Whispers Episode 02 01 Trembling (Luigi Tozzi Remix) – @mercy_cph (Pursuit) 02 Taris (Mary Yuzovskaya Remix) – @mtrl_io (Fur:ther Sessions) 03 Reboot (Recondite´s Isolation Remix) – @solee.music (Future Romance) 04 Cirklon Bells (Edit Select Remix) – @slam_djs (!K7 Records) 05 The Radiant City – @artefaktofficial (Deep Sound Channel) 06 Surreal Restaurant – @_architectural_ […]
[…]
01 Ashes of Korr (Dycide Remix) – MTRL @mtrl_io (IO records) 02  Altare – Svarog @svarog_ua (Informa Records) 03 Axon (Luigi Tozzi Remix) – SOEL  @soel_music (Oracolo Records) 04 Inlamint – Na Nich @nanich_sunchase (Delsin Records) 05 District X17 – Alexskyspirit @alexskyspirit (Quartz Rec) 06 Les Planes – Deepbass, Ness @deepbasslive (Dynamic Reflection) 07 Nekton […]
[…]