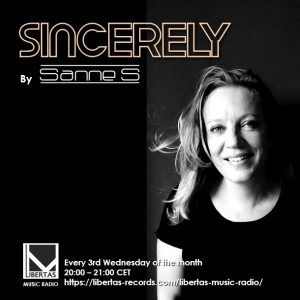 Show Times
Timezone
:
CEST
[UTC+2]
About the Show
After her first club techno experience in 2015 Sanne was hooked to EDM immediatly. From that moment on she started listening as much music as possible. Inspired by DJ's as Adam Beyer, John Kashan, Amelie Lens, Worakls, Alex O'Rion, Guy J, Eelke Kleijn, Maksim Dark and many more she found her own favorite sounds.
Her style can be described as Deep Dark Techno, but never without melodies. She is also not afraid to get out off her comfort zone making a progressive mix.
Sanne S played at various venues and events like: RLGC, Panama Amsterdam, Club NL, IJland, Faralda Crane Hotel and many more.
Connect with;
Facebook: https://www.facebook.com/Sannesmusic/
Insta: https://www.instagram.com/dj_sannes/
Mixcloud: https://www.mixcloud.com/SanneS/
Youtube: https://www.youtube.com/@sannes4525
1 EMPHI – Hallway Seven[Mango Alley] 2 Matt Oliver, Influence (IN) – Advance (Original Mix)[Mango Alley] 3 NOIYSE PROJECT – Metanoia (Original Mix)[Till The Sunrise] 4 Mahmut Orhan – Game Of Thrones (Original Mix) 5 Emi CA, Joaco Salerno – Why We Dream (MoodFreak Remix) [Transensations Records] 6 Ruben Karapetyan – Tarantella (Original Mix)[Balkan Connection] […]
[…]
Nick Warren Guy Mantzur – Sad Robot (D-Nox & Beckers Remix)[Bedrock] ,NOIYSE PROJECT – When Im Not Me (Original Mix)[Till The Sunrise] ,Pablo German, Proler – Ocean Voyage (Arbey Gonzalez Remix)[Future Avenue] ,Vadim Manko & Barych – Hernan (Original Mix) )[Future Avenue] ,Michael A – Slow Down (Original Mix) [Genesis Music]  ,Erich LH – Duparc […]
[…]
Khen Homeboy (Original Mix) [Closure] ,Felix Raphael feat. Huaira Rising Suns [3000 Grad Records] ,Chris Cargo Mirage (Weird Sounding Dude Remix) [If You Wait] ,Mode Apart Gulf Of Bothnia [UNIVACK Records] ,Gorkiz & Nufects Wild (Juan Deminicis Remix) [Clubsonica Records] ,Maze 28 Constant Daydream (Original Mix) [Balkan Connection] ,Kyotto Beneath the Wild (Original Mix) [CRFT […]
[…]
Alley SA – That Feeling (Original Mix)[RYNTH ], FJL – No Drama (Original Mix)[Mango Alley], Sergey Muzarks – Infinity [Transensations], Rick Pier O'Neil – Imperial (Zankee Gulati Remix)[Proton Music], Maze 28 – Eternal Now (Christian Monique Remix)[Best Pro Records], Gespona – Umbra [STIL VOR TALENT], Sergio Salomone, Evegrem – Catharsys (Andrés Moris Remix) [Lake Underground […]
[…]
Radiohead – Creep (Jonnas B Remix)[Manual Music], Dan Sieg – Ethereal Dub (Alex O'Rion Remix)[MANGO ALLEY], Engelbert – Crater (Whirl Remix)[Manual Music], Lian July & Chris Odium – Dimension (Original Mix)[Lowbit Records], Ewan Rill – Dark Night [Lowbit Records], Sergio Salomone, Evegrem – Catharsys (Andrés Moris Remix) [Lake Underground Music], Fabian Balino – Endless Story […]
[…]
Nordkapp – Einmusik, Holy Ground – Stan Seba, Bynomic, Vivid Imagination -Novak (notsoserious), Whole 9 (Original Mix) – Covsky, The Serpent (Imran Khan Remix) – Alex O'Rion, Walking On The Edge (Original Mix) – Thomas Ferell, Jigsaw (Original Mix) – Althoff, Gespona, Rosetta – Emrat, Gouvy – Jelle van Leeuwen, Another Chance (Fidan Remix) – […]
[…]